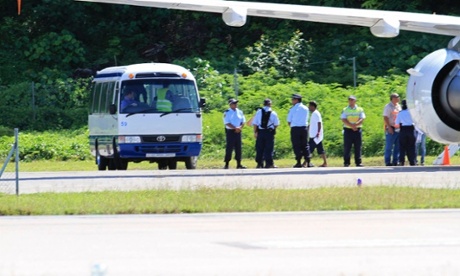 Australia and Cambodia are edging closer to a controversial refugee resettlement deal with the Australian immigration minister, Scott Morrison, due to visit Cambodia in "upcoming days", according to Cambodian media reports.
It is unlikely, however, the deal will be signed this week as Morrison is currently on leave, Guardian Australia understands.
The deal would allow the Australian government to move those who have been given refugee status on Nauru on to Cambodia for resettlement, with Morrison previously saying the resettlement would be voluntary but that any refugee who refused resettlement should have their protection claims questioned.
Negotiations between Cambodia and Australia began in February following a visit to Cambodia by Australian foreign minister Julie Bishop. The move for a deal has been discussed openly by both the Australian and Cambodian governments, with Morrison saying he had received a "positive response" from Cambodia during negotiations in May.
The Phonm Penh Post reported comments from a Cambodian foreign office official on Monday stating that Morrison would "visit a number of areas in Cambodia" in the coming days in a trip "regarding the issue of refugees".
Guardian Australia contacted Morrison's office for comment and received no response.
The UNHCR, the United Nations' refugee body, have previously criticised the deal, saying it was "not a durable solution".
"A real solution is not to send them to a country that is still recovering from a horrible civil war that killed millions of its people … It's not in the spirit of resettlement as far as I can tell," a regional protection adviser to the UNHCR said in April.
The UNHCR's regional office in Bangkok told Guardian Australia on Monday it had not received the details of the resettlement agreement and neither the Cambodian secretary of state, Ouch Borith, nor the minister of interior, Sar Kheng, responded to a request for comment.
On Monday, the Cambodian Human Rights Action Committee (CHRA), a coalition of 21 Cambodian NGOs, issued a statement expressing "serious concerns" about the deal, particularly about the lack of transparency.
"This lack of information from both governments again demonstrates the contempt the two governments have to the fundamental principle of rule of law, transparent government and due process," the statement said.
Cambodia has also been criticised for its poor record on the human rights of refugees. In 2009 it returned 20 Uighur people seeking asylum from China despite heavy criticism from the UN and the US.
There are just 68 refugees and asylum seekers in Cambodia at present, with the CHRA statement saying: "They certainly do not enjoy the same rights as nationals; many cannot get a job because they have no working permit, cannot open a bank account or purchase property, send money overseas, nor do they have access to suitable education and healthcare services."
On Monday the Australian Greens renewed calls for parliament to block the resettlement deal.