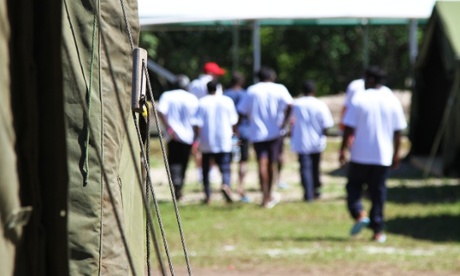 Cambodia has agreed to an in-principle arrangement to take asylum seekers in Australian detention in Nauru who are found to be genuine refugees, according to the ABC.
Reports emerged in February that Australia's foreign minister, Julie Bishop, had asked Cambodia's prime minister, Hun Sen, to resettle some refugees.
On Tuesday Ouch Borith, the secretary of state at the foreign affairs ministry, said an agreement had been reached. "In principle, the government has agreed … and we will do the work according to international standards," he said, Reuters reported.
The ABC is reporting that the agreement specifically relates to asylum seekers who are processed on Nauru and found to be refugees there, and could involve resettlement of more than 1,000 people.
There details of the plan have not yet been revealed, but Borith denied reports that Cambodia had agreed to take asylum seekers in exchange for foreign aid.
The UN deputy high commissioner for human rights, Flavia Pansieri, was also visiting Cambodia on Tuesday, and said: "What we think is important is to note that Cambodia is well aware of its international commitment to human rights standards.
"To the extent there is any need for co-operation, we stand ready to provide support to ensure that standards are met."
Cambodia is one of the poorest countries in the region and has a questionable human rights record. The Greens and representatives from the UN have criticised the proposal.