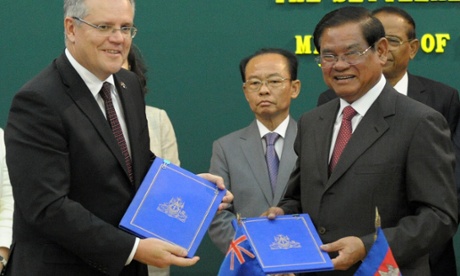 The deal signed by immigration minister Scott Morrison in Phnom Penh on Friday will see refugees held on the South Pacific island of Nauru resettled "outside" the Cambodian capital.
Morrison refused to answer questions regarding the memorandum of understanding during a 5-minute signing ceremony, after which he clinked champagne glasses with Cambodian official.
But a copy of the MOU, which has been posted on Morrison's official website, shows for the first time the details of the agreement, which was first proposed during a February visit to Cambodia by foreign minister Julie Bishop and has until now been shrouded in secrecy.
It says that the duration of the deal will initially be for four years, and can be terminated six months after notice is given in writing either by the Australian or Cambodian government.
"[T]he temporary accommodation of refugees will be in Phnom Penh. The settlement services for the integration of refugees into the Cambodian community under this MOU will be delivered at a location outside of Phnom Penh," it says, but does not elaborate.
The Jesuit Refugee Service in Phnom Penh has been outspoken in its opposition to any kind of institutionalised accommodation for the refugees, which the MOU says would come to Cambodia on a voluntary basis.
Refugees on Nauru say the deal is "cruel" and will keep them in detention forever.
The deal also says that "refugees will be assisted to re-establish their lives so that they become self-sufficient; the level and type of support provided to each refugee will be tailored to their needs; services and treatment will be commensurate with local community standards; [and] health insurance will be provided to Refugees as set out in the Operational Guidelines."
These guidelines say that Cambodia will be responsible for providing refugees with a "refugee recognition certificate … refugee resident card, and refugee identity card," as well as providing orientation programs and Khmer language lessons.
Australia is to bear the cost of "their daily subsistence", language training and loans to set up small businesses, temporary accommodation, food and clothing assistance with getting private accommodation, health services and "other services," though it is not clear what these are.
"Cambodia will provide the required documentation to allow refugee children the opportunity to access public education, and the opportunity for adult Refugees to obtain jobs," the MOU says.
In August, 75% percent of the students who sat the Grade 12 exam failed, while only nine students out of the 90,000 who took part received an A grade.
The public health system, meanwhile, is of a poor standard and most Cambodians live on about a dollar a day.