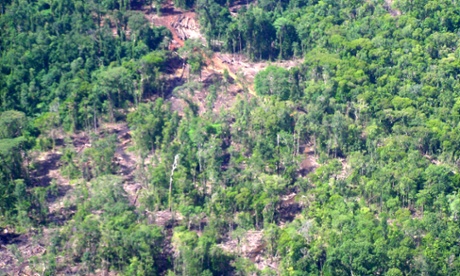 Australia's biggest banking institutions have provided financial support to companies involved in illegal logging, forced evictions and child labour, according to a new report from Oxfam Australia.

A new report released on Monday says ANZ, Westpac, National Australia Bank and the Commonwealth Bank have invested in a range of countries across the Asia Pacific that had been involved in land grabs that left locals homeless.
"From PNG and Cambodia to Indonesia and Brazil, our banks have backed companies accused of forcing people from their land," said Oxfam Australia's chief executive, Dr Helen Szoke.
"This involvement has also resulted in billions of dollars of exposure for everyday Australians who have their money in accounts with these banks, or who own bank shares directly or through their superannuation funds."
According to the report, ANZ Bank provided financial support for a sugar plantation involving child labour and forced evictions, and Westpac is supporting a timber company logging rainforest in Papua New Guinea.
NAB funds a palm oil company, Wilmar, which has been linked to land grabs in Indonesia and Malaysia, and the Commonwealth Bank has invested in an agricultural business which operates a Brazilian sugar mill that is accused of evicting indigenous communities from their land.
"The banks need to say which companies they're investing in, and where those companies have pushed people off the land, to work with those companies to change their practices and provide compensation to communities," Szoke said.
Westpac said in a statement on Monday it welcomed the Oxfam report.
"In the past, Westpac has been prepared to exit customer relationships if we are not comfortable with the risk profile of a customer or related parties, or have concerns around their environmental, social and governance activities," said the bank's head of group sustainability and community, Siobhan Toohill.
In a statement provided to Oxfam before the release of the report the bank also said it had a framework in place to address improper land acquisitions.
A spokesman from NAB said: "Due to legal and confidentiality reasons NAB cannot provide specific information about our clients.
"However, we can confirm that when deciding whether to provide finance to a customer, NAB assesses the risk through a number of lenses including economic, environmental and social considerations. This includes assessing a potential customer's background, character, track record and country of domicile.
"NAB's assessment of social risks incorporates consideration of issues related to human rights such as improper land acquisition."
The Commonwealth Bank said in a statement: "We are aware of the report released by Oxfam. We will review any issues raised in the report to help inform our approach to sustainability and responsible financial services."
A spokesman from ANZ said the bank had ended relationships in the past where customers were "unwilling to work collaboratively" with the bank.