While many foreign residents lament the arrival of global brands such Starbucks, Burger King and most recently McDonald's into Vietnam, one local family-run business – ABC Bakery – is happily reaping the benefits.
"We make burger buns for all the fast food chains," says 54-year-old founder Kao Sieu Luc, gesturing enthusiastically to a wall in his office in Ho Chi Minh City plastered with the famous logos of his clients.
The business is perhaps better known locally for its bakeries-cum-cafes, of which 32 are located in south Vietnam, and another five in Luc's native Phnom Penh, Cambodia. The bakery frequently introduces new products, and Luc – who spent two years as an apprentice at a piston factory – often designs the machinery himself.
"We are always the first. Some other bakeries, they look at the cake, very nice, but they cannot copy because I designed the machine myself," he says, with a mellifluous laugh.
Luc's achievements are all the more remarkable considering his family's troubled history. In 1979 they were among thousands of Cambodian refugees who fled to Vietnam to escape the bloody dictatorship of Pol Pot and the Khmer Rouge.
Luc's parents were of ethnic Chinese origin and ran two general stores in Phnom Penh until Pol Pot's Khmer Rouge entered the city in 1975, beginning a four-year reign of terror which cost the lives of as many as 2 million Cambodians.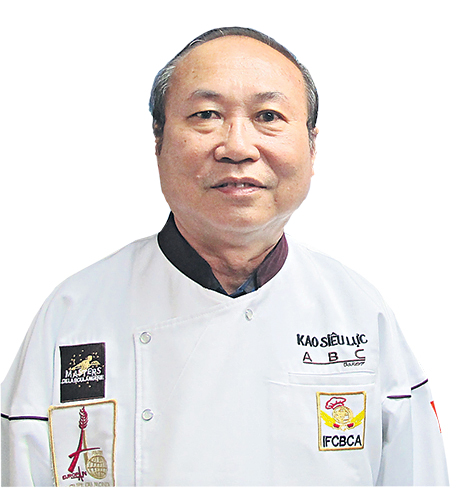 Kao Sieu Luc. Photograph: Marianne Brown


Urban residents across the country were forced back to the land, money was abolished and intellectuals ruthlessly suppressed. Eleven members of the Kao family were moved to a collective farm with more than 130 other families in a village far from the city.
"We grew corn, potatoes, bananas, rice – a lot, but we never had enough to eat," Luc says. "It was very hard, very difficult because we worked every day, a lot of work, but still there was not enough food to eat."
Luc's father and elder brother starved to death. Some families also faced summary execution for reasons that were never explained.
"They put up a list of the names and afterwards the families were taken away, not far, and killed," Luc says.
"First they killed about 28 families, second time about 30 and the third time only about 10 families – the last time my family's name was on the list," he says.
But on Christmas Day 1978, Vietnamese forces invaded Cambodia, capturing Phnom Penh two weeks later. In the chaos that ensued, the Kao family managed to escape back to the capital.
Luc's niece, Alice Kao Hui Sia, who now works as Luc's assistant and is a branch manager at ABC Bakery, was 12 years old at the time. She says the only possessions the family had when they set off for the capital was a cooking pot and some rice.
"We were fighting for the food along the road, and for water. It took a long time to walk, more than one month because we walked and we stopped, we walked and we stopped," she said. "I was the eldest child in my [immediate] family, my sisters were very small. They were walking along with us, we felt so tired and sad. But we survived."
After staying in a makeshift shelter in Phnom Penh, the family decided to make the long journey to Vietnam, again by foot. They arrived in Ho Chi Minh City, formerly known as Saigon, in 1979.
"When we arrived here we had nothing, no friends, no family," Luc said. "We could speak not even one word of the Vietnamese language."
Luc got a job carting rice to market stalls, and later wheat. The family got a stall of their own, where they packaged wheat brought in from the countryside to sell at a bigger market.
But the family's trials did not end there. In 1980 they were rounded up to live in one of two refugee camps set up by the United Nations high commissioner for refugees.
"You have nothing to do in the refugee camp. In the morning you watch the sunrise, in the evening you watch the sunset, so it was very boring," Alice says. "That's why he ran away after just one month," she adds, nodding towards Luc. "He stayed with some friends and started a business."
At first, Luc delivered flour to bakeries, but then decided to build his own oven and bake sweet rolls and sponge cake. At first he packed the cakes on his motorbike and sold them to street sellers; later he built more ovens to sell cakes from his house.
In 1989 – three years after the Vietnam launched economic reforms, known as "doi moi" – Luc married a Vietnamese woman and founded Duc Phat bakery. Shortly afterwards, he became a Vietnamese citizen.
Over the next decade Luc took advantage of the new open economy, and made trips to Japan, France and the United States to learn different baking techniques and import machinery. When the couple split in 2005, Luc's ex-wife took the Duc Phat name, and the ABC Bakery was born.
Today, business has never been better as more global brands enter the market and sign contracts with ABC Bakery. The company is building a new $ 4m factory on the outskirts of the city to keep up with demand.
"This factory will be three floors, one floor for McDonald's, one for Japanese products, one for the export market," Luc said.
But Luc is not interested in international expansion. The most important thing, he says, is that ABC Bakery remains a tightly run, family business.
"The name is from my three children. A, Angela, B, Bruce and C, Christine – ABC," Luc says. "All the children studied in Singapore. Now they have come back to help me with the business. I am old, it's their turn now."