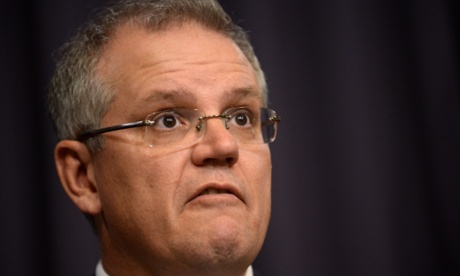 Any refugee who refuses resettlement from Nauru to Cambodia should have their claims questioned, according to the immigration minister, Scott Morrison.
He also rejects suggestions that a refugee deal could result in payments to corrupt politicians and officials in Cambodia.
Following comments from senior Cambodian politicians alluding to a deal being struck within days, Morrison told ABC radio that while there was no date set, he welcomed the "positive response" from the south-east Asian nation.
"Resettlement is a voluntary process," he said, "but it does raise a very interesting question that if someone who says they are persecuted is offered a safe country where they can go and if that country is not to their economic liking then I think that does raise questions about the claim."
Guardian Australia has also obtained a Nauruan government email which states the first refugee determination decision is due to be handed down on Tuesday.
"This means that asylum seekers found to be genuine refugees will be allowed out of the camps at topside and allowed to live within the Nauru community," the email states.
It states that refugee families will initially be resettled in a local lodge before more permanent accommodation is found. It encourages local Nauruans to sign up to a "buddy system" to encourage community cohesion.
Guardian Australia previously revealed refugees on Nauru will be offered a temporary working visa of up to five years.
On Monday, the Cambodian opposition leader, Sam Rainsy, criticised any refugee deal between Cambodia and Australia. "It would be a disgrace," he told the ABC "A rich, powerful and respected country such as Australia must face its responsibility dealing with this humanitarian problem."
Rainsy predicted that any deal would result in payments from Australia ending up lining the pockets of corrupt officials.
"Any money, especially from any foreign source, would be diverted and channelled into the pocket of our corrupt leaders with very little, if any, benefit to the ordinary people."
Morrison dismissed the allegations on Tuesday. "I don't think that is a risk here," he said. The minister declined to detail how much the deal would be worth.
On Tuesday, the Australian Greens announced they would attempt to force a vote in the Senate on any deal with Cambodia.
Numerous human rights bodies, including the UNHCR, have criticised the proposed deal.
Cambodia has also been criticised for its poor record on the human rights of refugees. In 2009 it returned 20 Uighur people seeking asylum from China despite heavy criticism from the UN and the United States.